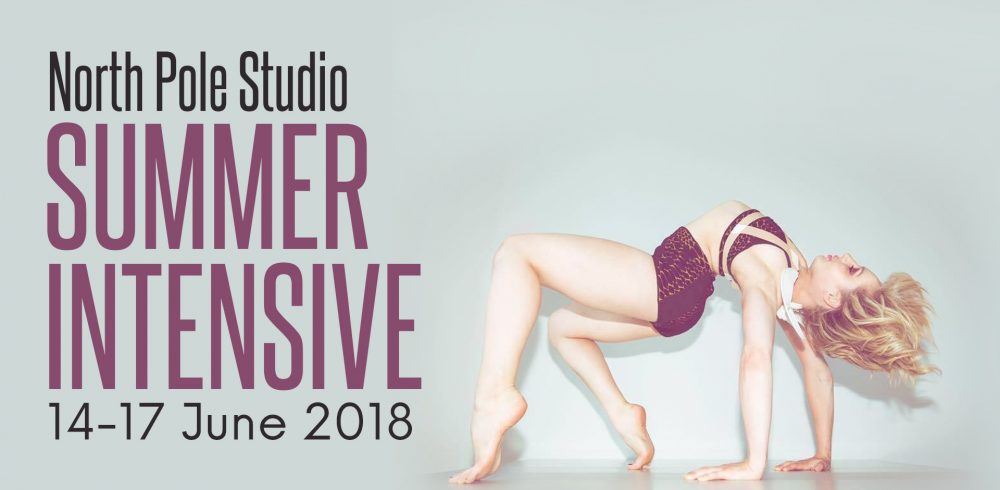 Summer Intensive
---
Join us on 4 days of intense pole, acro and flexibility training with international instructors in our beautiful studio in Stockholm, Sweden.
The summer intensive include 9 classes in various styles including Poledance, Pole Choreo, Exotic Pole Handbalancing and Flexibility with some of the worlds best aerial artists.
Price & Booking
» Book level 2-3 (Adv-beg)
» Book level 4-5 (Int-Adv)
Price: 3000 SEK.
North Pole Studio students: 2860 SEK.
OBS! För att erhålla rabatten för NPS studenter ska du ha tagit en kurs hos oss under 2018. Det innebär den nuvarande kursperioden eller den kommande (start 19/3). Ange i meddelanderutan när du bokar att du är NPS elev och vilken kurs du går. Kontakta oss om du är osäker.
International students: The booking page is in swedish. If you're having trouble booking, please send us an e-mail to info@poledance.se and we'll help you out. Please note that accomodation or travel expenses is not included in the price. If you need help finding accomodation, contact the studio.
Instructors
Slava Ruza
Pole Choreo
Anna-Maija Nyman
Poledance
Olga Karmansky
Flexibility/Contortion
Camilla Behr Carlsen
Poledance
Toubab Holmes
Handbalancing
Emma Hei Rim Andersson
Exotic Pole
Classes
You will take up to three classes a day. On Thursday and Friday classes start 17.30, and weekend classes are during daytime. Classes include Pole Dance, Pole Choreo, Exotic Pole, Handbalancing and Flexibility/Contortion.
Privates
Privates and semi privates will be available. Contact the studio for more information.
Levels
There will be two different levels, with 16 spots in each group. Contact us if you are unsure of your level.
Advanced Beginner – Level 2-3
Can do basic invert and leghangs.
Intermediate Advanced – Level 4-5
Can do shouldermount, brass monkey, Ayesha and handspring.
Schedule
A more detailed schedule will be released before the intensive.
Thursday 14/6
Handbalancing Toubab
Pole Choreo Slava
Friday 15/6
Poledance Anna-Maija
Flexibility Olga K
Saturday 16/6
Poledance Camilla
Flexibility Olga K
Free Own training
Sunday 17/6
Flexibility Olga K
Exotic med Emma A
Poledancing Camilla
---
All training is done at the students' own risk. International students are responsible for having adequate ensurance. Flights, travel and accomodation are not included in the prices.