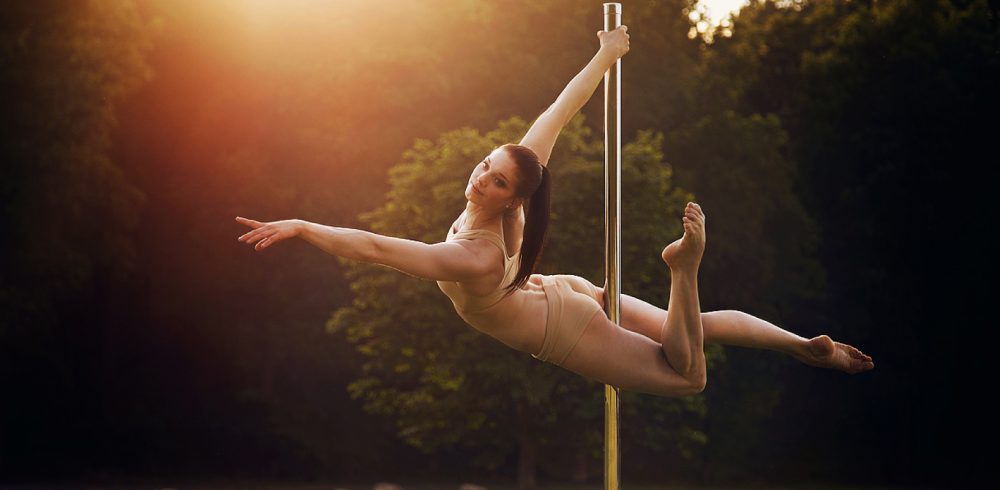 Poledance
---
We have poledance courses for all levels, from beginners to advanced, as well as concept classes and intensive courses. Each course usually consists of 9 consecutive training sessions once a week. The classes include warmup, conditioning, technical training, choreography and stretching. Between regular courses, there is also the opportunity to use the studio to practice Open Pole.
Please note that the courses we offer varies between periods, see the schedule for the current classes available. Here you can book courses for the current period. Please note that the booking page is in swedish. If you need assistance with your booking, contact us at info@poledance.se.
Levels
Pole 1
No prerequisites required, come as you are! We build the strength and agility required for poledance. The class is 90 minutes.
Pole 2
Your basic climb should be consistent for this level. You should understand basic technique for static spins as well as baseball grip.
Pole 3
To continue to Pole 3 your basic invert should be consistent. You have turned upside down on the pole before and you understand inverted positions such as Upside Down Crusifix.
Pole 3+
You've finished Pole 3 and are comfortable with leg hangs (gemini and scorpio), as well as have practiced shoulder mounts. This is a more advanced Pole 3 class that focuses on flow and combinations of tricks.
Pole 4
Your shoulder mounts are consistent. You have an understanding of elbow grips such as Ayesha. This is an advanced class where you learn many different tricks that require both strength and agility. We often put together different tricks and work with transitions between them.
Pole 5
The most advanced class on the schedule. You have been training for a longer period of time and you feel safe in split grips, eg. Handspring. You have an understanding of various grips. This class requires both strength and mobility and we practice a lot of combinations.
Taster class
A one-time class for those who want to try at the beginner level before signing up for a full course. No prerequisites necessary.
Concept Classes
Power Pole
Power Pole is a dynamic class that brings out the trickster in you. Focus is on strength, tricks and transitions, and we work with handsprings, shouldermounts, inverts and different climbing techniques. For those who want to build strength and stamina.
Acro Pole
Acro Pole is an acrobatic class of influences from Chinese Pole, a circus discipline that uses a thicker rubber-coated pole. The class focuses on acrobatic exercises on the floor and the pole. Acro Pole suits students in levels 3-5.
Pole Choreo
Pole Choreo is a dance class where you learn a choreography with the pole. We work with combinations, floor work and transitions to find flow. This class is for those who want to develop as a dancer and learn how to use your knowledge on the pole in new creative ways. You can also expect better coordination, stamina and strength.
Spinny Flows
A level 3 class focusing on flows and combinations on spinning pole. In this class we work on basic exercises and conditioning for level 3 such as inverts, leg hangs and shoulder mounts, as well as tricks on static pole. Half the class we work on tricks and putting together nice flows on spinny pole.
Exotic Pole
A class where we explore the more sensual side of poledance. Prepare for 90 minutes full of high heels, hairflicks and floorwork. You do not have to be an advanced dancer to take Exotic but you should have been training for at least one course period. We recommend high heels, but it is not necessary.
Intensive training
For those who want to achieve results faster and train more intensively, we offer tailored solutions to suit your needs.
Unlimited
For those who want to exercise a lot. With Unlimited you can take as many classes as you want during one course period. Sign up for 4 optional classes and, subject to availability, drop in on all other classes. Always report you attendance to info@poledance.se before you come for a drop in class. Please note that if you have Unlimited you cannot catch up on missed classes in future course periods.
IIT – International Intensive Training
North Pole Studio is well known over the world for our high quality and aspiring classes in Poledancing, Flexibility and Acrobatics. Come to Stockholm on a traincation and have free access to our classes and Open Pole times. 1 private of your choice in style will be granted in the price. We will help you find cheap but great accommodations! Please contact us at info@poledance.se if you are interested in our IIT program.
Open Pole
Open training, without instructor. During scheduled time for Open Pole, anyone person with basic knowledge within Poledance can come and train on their own.