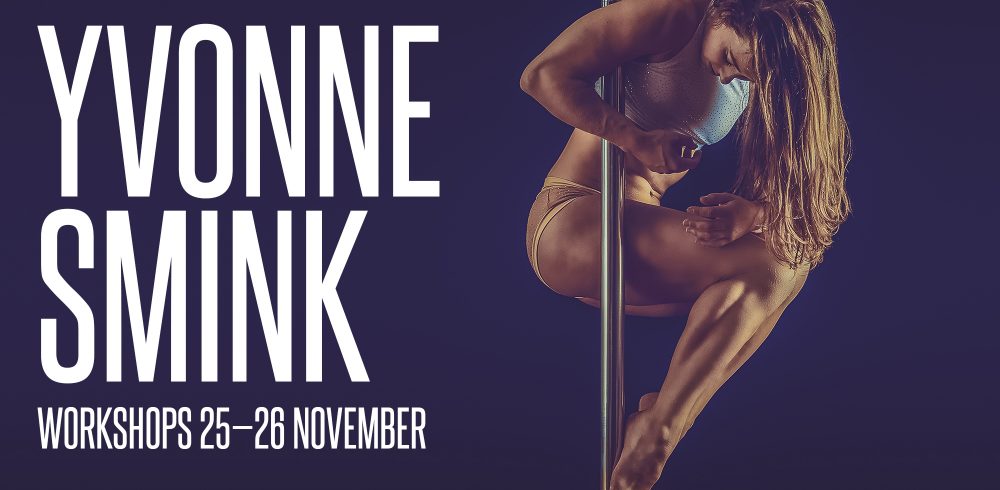 Boka workshop
---
Workshops med Yvonne Smink 25-26 November
We are so excited to host international Pole star and super creative movement artist Yvonne Smink for workshops on November 25th & 26th.
About Yvonne: Yvonne was introduced to poledance in 2011 and not a single day has gone by without her training (or thinking about training) on the pole! Originating from the wallclimbing scene, she immediately fell in love with the physical challenge poledance gives her. Her unique style shows influences from chinese pole and breakdance among others. Every performance is detailed and filled with movement that takes the audiences breath away. She owns a poledancing school in the Netherlands, Vertical Balance, where she teaches men, women and kids the art of pole with great passion.
Bokning
Bokning till respektive workshop sker på kursbokningssidan. Du hittar även information om varje workshop och bokningslänk nedan. Observera att ordinarie mängdrabatter ej kan appliceras på Yvonnes workshops.
Pris
650 SEK/workshop. Betalning sker via e-faktura eller swish.
Workshops
COMBO & SPIN FUN (all levels)
Learn to spin into some fun new combos on the pole! In this workshop Yvonne will teach you how to properly execute some badass spins on a statc pole, make fluid transitions in and out of tricks and ultmately combine it all while still keeping your smile up.
Saturday Nov 25th 12.00-13.30
» Boka Combo & Spin Fun

STATIC FLOWS (intermediate / advanced)
What is more fun than spins that start from the pole? Learn how to create flows without touching the foor in this inspiring workshop.
Saturday Nov 25th 15.30-17.00
» Boka Static Flows

POLE & FLOOR CREATIONS (all levels)
In the workshop 'Pole & Floor Creations' we discover spins, tricks and handstands in the always interestng space between the pole and the floor.
Sunday Nov 26th 13.00-14.30
» Boka Pole & Floor Creations

POLE CHOREO (intermediate / advanced)
This is not your ordinary choreo, it's choreo Yvonne style! Be prepared to sweat, because it will be a lot of tricks and powermoves in the Choreo.
Sunday Nov 26th 16.00-17.30
» Boka Pole Choreo

Privates
Yvonne är även tillgänglig för privates fredag 24/11 – söndag 26/11.
Priser private class 60 min
1 pers: 1250kr
2 pers: 1000kr per person
3 pers: 800kr per person
Kontakta oss på info@poledance.se för att boka privates.
---
Tidigare workshops